I am embarrassed to say that I've been in the Milwaukee area many times but never explored the city. There is a reason people refer to it as a mini Chicago.
It really is! But much calmer and nicer.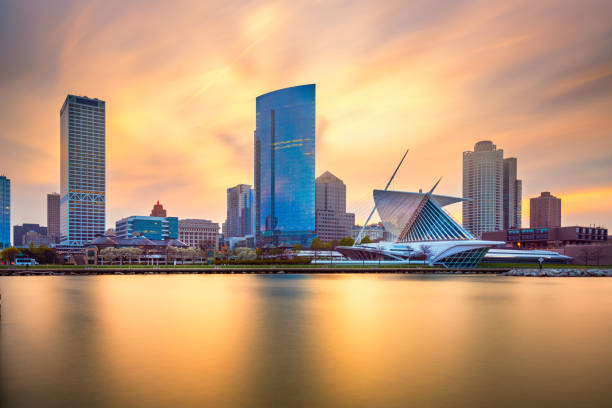 Here is a list of places we visited on our short, day trip!
We started our day at Stone Creek Coffee – Downer Cafe & Kitchen. It is located just 10 minutes north of Milwaukee center. Plenty of parking in the area but we parked on the metered Public Lot just on the corner of the coffee shop.
The coffee was good, the place was super cute and friendly. Their pastries were delicious.
I did this strategically because one of the most recommended and visited spots in this area is within walking distance. The North Pointe Lighthouse. However, this mom failed to look at the hours (1-4pm) and we did not get a chance to do the tour or walk up the lighthouse for what I hear are some amazing views. But we did get to hang out in their gorgeous Lake Park and enjoyed stellar views of the lake anyways.
The walk to Lake Park and back to our car is just as fantastic. The homes are absolutely stunning and the people are some of the friendliest we have ever met.
This neighborhood is one for the books.
Next, we picked up our car and drove to Milwaukee Public Market. If you don't visit anything else in this city, this place is good enough. This entire area is fun, eclectic and vibrant. Loved it!
The place itself was filled with energy, great food and unique selections.
Breakfast, lunch or dinner – there is an option for everyone.
Next, we strolled around the city, grabbed some food and finished our day off at the Riverwalk. What a treat! You can walk from the city center all the way to the lake. "It brings you to the doorstep of some of the city's best restaurants, brewpubs, shops, and nightlife."
Finally, on the way back we stopped at the Henry Maier Festival Park. It is so beautiful and it has access to some pretty cool lake views. But since there was no festival, the park was open for walking and for the kids Community Park. We loved it all.
So all in all, it was a successful family day. There is still so much to see and do in Milwaukee. But for us, this was enough for one day. We will be back because we still want to check out the Art Museum, take a brewery tour, and maybe visit one of their infamous festivals. This would make a perfect day date for couples! Husbands, wives, partners – take notes.
If you are looking for more date ideas or family adventures, check out my one of my Date posts. Or visit my Travel page for more.
Until next time, have fun and be well.
x, Dijana